Minion Wash Kit Automatic Toothpaste Dispenser
The is an auto toothpaste dispenser, toothbrush holder and cup. It is an innovative bathroom set. It is cute and funny in appearance, young ones will go crazy for it. Eco-friendly food-grade ABS material makes it safer. No more wasted toothpaste, get toothpaste quickly with little effort.
Keep your bathroom clean and tidy, this item will make your life easier. Convenient to use, for people of all ages. Saves your money because it uses every last drop of toothpaste. Can be a very innovative and fancy gift.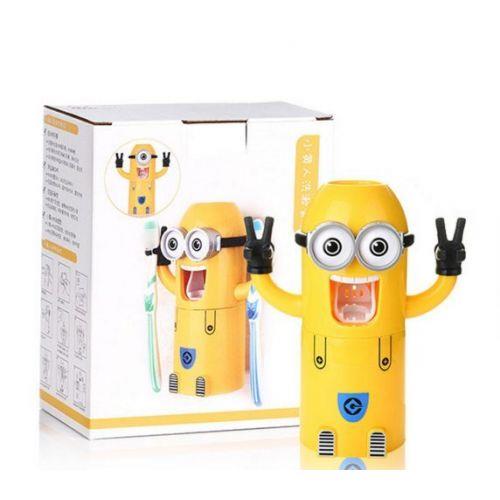 Material:ABS; Weight: 342.40 g Size: 19.8*16*10.1 cm
Cute Minions design (two eyes);Comes with a attached adhesive pad for easy installation
Can dispense the same amount of toothpaste
Totally hans-free, clean and tidy;Can hold two toothbrush
The upside down cup dry fast and dust free
Magnet inside help back to the original place;Install Style:Wall Mounted Type